Sakshi has learnt 100 country capitals and can recall all those. She has made a world record of recalling the maximum number [69] of Country Capitals in a minute at this young age of 4 years and 1 month.
1. She made a "Children's Record" under the Global Record and Research Foundation.
2. "World Record" in OMG Book Of World Records.
3. Record with "India Book Of Records".
4. "Grand Master Certification" from "Asia Book Of Records."
5. Registered with "World Book OF Records , London". Received award in Dubai via Dr Jiterndra Matlani , Vice President of World Book Of Records, London.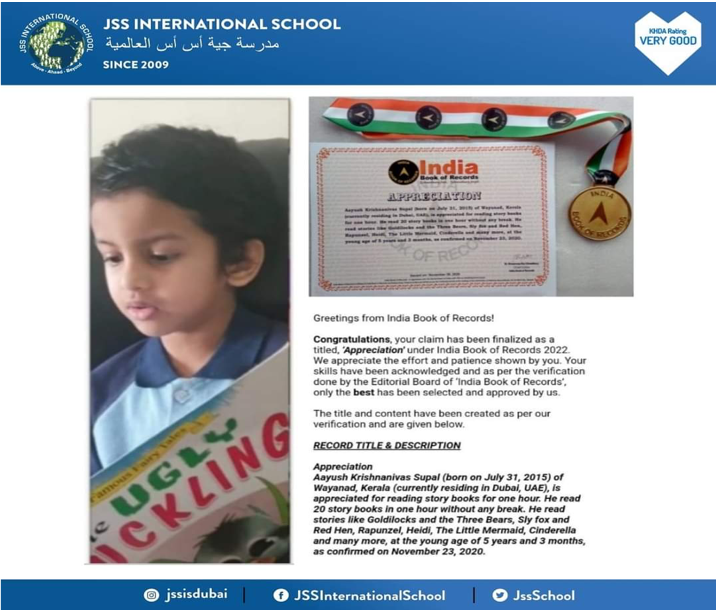 Our Kindergarten star Ayush Supal entered the "India Book of Records, 2020", who also has his own YouTube channel "Reading Room with Ayush"
At the tender age of 5, Ayush created the record of reading 20 storybooks in an hour and entered himself a place in the "India Book of Records,2020". He won a medal and a certificate of appreciation. He read stories like Red Hen, Rapunzel, Goldilocks, The Little Mermaid, Cinderella, Heidi, and many more. His command over the language and exemplary confidence have won him many ardent subscribers on his YouTube channel too. His teachers and parents have helped him realize his dream of becoming a rapidly rising reading star. Truly a child prodigy making JSSIS kindergarten proud.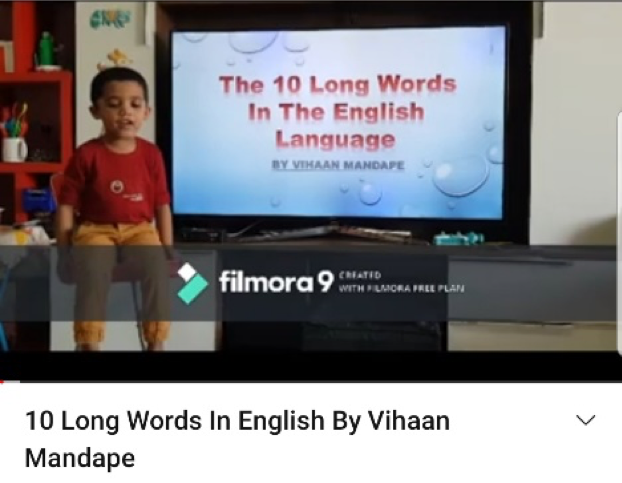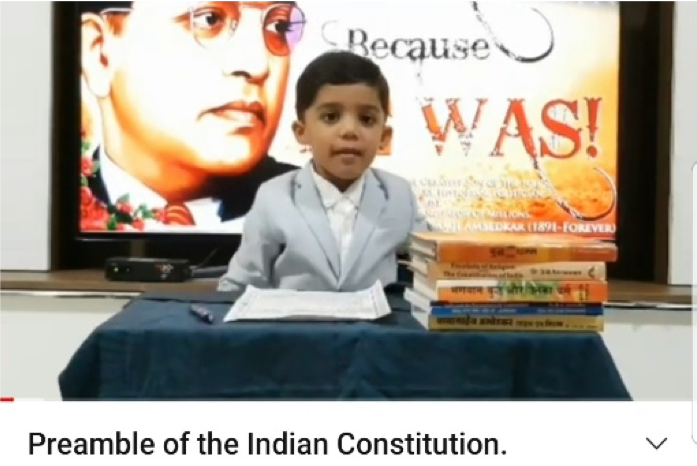 Our reading champion Vihaan Mandape who also has a YouTube channel.
Vihaan has accomplished the feat of reading the Preamble for the Indian Constitution and saying 10 long English words at the young age of 5 years. He is taking big strides in making everyone aware about the Indian Constitution and has an impeccable command over the English language and successfully took up the herculean task of saying 10 long English words fluently making his parents and Kindergarten teachers at JSSIS very proud.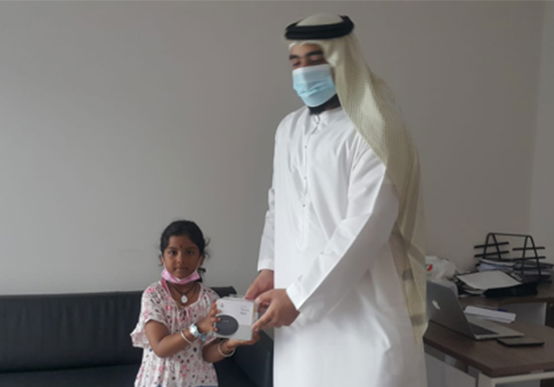 Our Drawing champion Ganavi Kaddish worn a gift prize for her art
Ganavi Kaddish took part in the Kaizen Drawing competition on COVID-19 Safety. She drew and put up a brilliant pictorial representation of COVID-19 safety on earth. She displayed an immense understanding of the pandemic and ways to stay safe during it. Thanks to her Kindergarten teachers and parents she has gained in depth awareness about the situation and her work reflects the clear understanding of it. Our young bright artist making JSSIS kindergarten team beam with pride.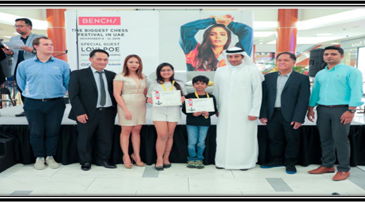 Niranjan Sujith Nambiar
Niranjan Sujith Nambiar has made us proud in the sports field as he shines with so many accolades on participating in the inter-school chess championship tournament that was conducted by Dubai Chess Club.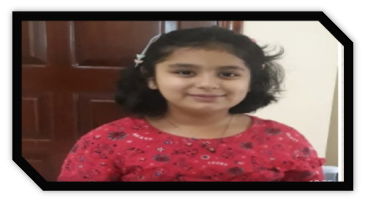 Aamina Yousuff
The introduction of Diplomathon Global Primary edition exclusively for our primary students have created a new wave in experiential learning. Outstanding performances- Aamina Yousuff of 3C grabbed first place while representing Germany.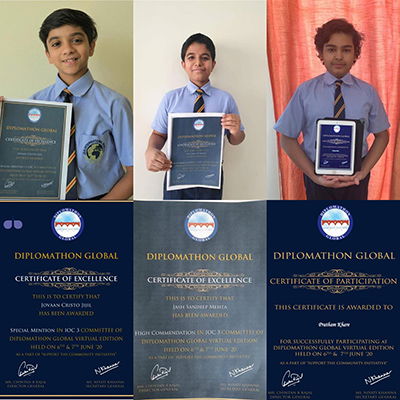 Jash Sandeep Mehta, Jovaan Cristo Jijil & Pratham Khare
JSS International School was delighted to take part in the DIPLOMATHON Global Virtual Edition which took place on the 6th and 7th of June 2020, with a total of 43 students from Grades 6 to 10. DIPLOMATHON is a high-impact learning platform for school students to participate and reinvent the Diplomat within. And we are thrilled to announce that we are amongst the Top 10 performing schools from 123 participating schools from different countries around the world.
Felicitations to the winners from our school: - Jash Sandeep Mehta of Grade 7E: Winner of the High Commendation Award for IOC 3, Pakistan - Jovaan Cristo Jijil of Grade 7D: Winner of the Special Mention Award for representing IOC 3, Singapore - Pratham Khare of Grade 8D: Winner of the Special Mention Award for representing Committee OPEC 4, Ecuador.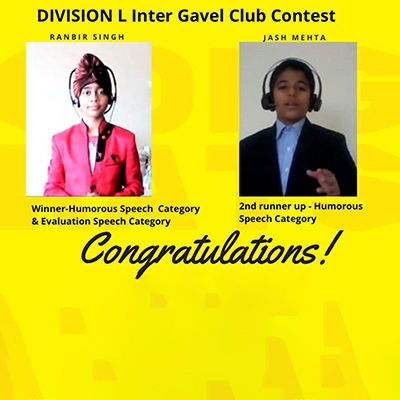 Ranbir Singh & Jash Mehta
Ranbir Singh of Grade 8 C and Jash Mehta of Grade 7 E participated in Division L Inter Gavel Club Contest and emerged victoriously. We are proud of their great achievements.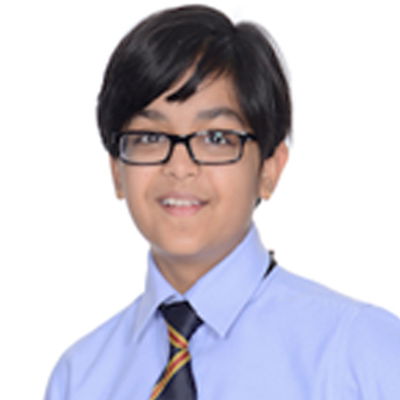 Rene Sherin Jayanand
Among the many accolades and competitions won by the students of the Middle School we have Rene Sherin Jayanand of Gr 7C who won 4th position in the category Story of Us at SCOPE 2020 an inter-school competition held by Kindergarten Starters.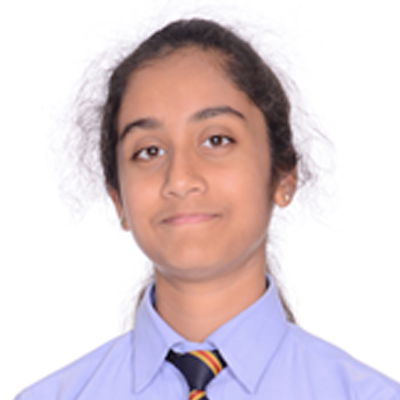 Joshyitha Arunkumar
Act Universal held an online Speech Competition on the 2nd of October where Joshyitha Arunkumar of Gr 8C secured third place in the Junior English speech category and Ranbir Singh of Gr 8C secured third place in the Junior Hindi Speech category.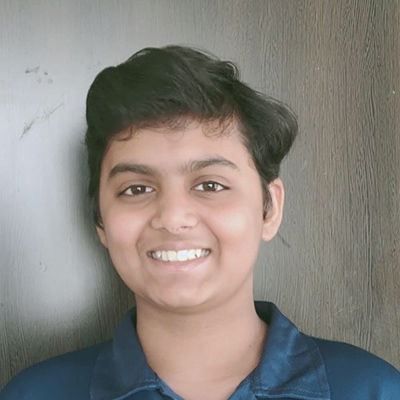 Ritvik Anil Jadhav
Ritvik Anil Jadhav of Grade 6 B brought laurels to the school by securing the second position in SCINOVATION- a competition based on innovative science experiments. We are immensely proud of his achievements.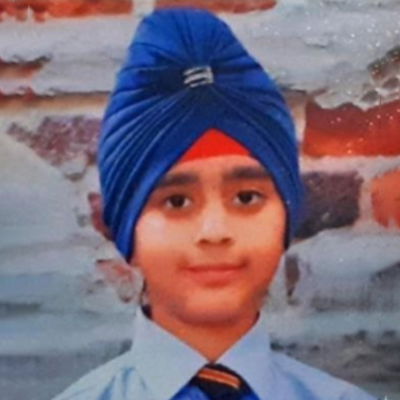 Ranbir Singh
The International non-violence speech contest organized by Act Universal was held on October 2nd, 2020, where more than 20 schools took part across the globe. It is a master of pride to mention that Ranbir Singh of 8C grabbed 3rd place in the Hindi category. You make us so proud once again Ranbir. Keep it up.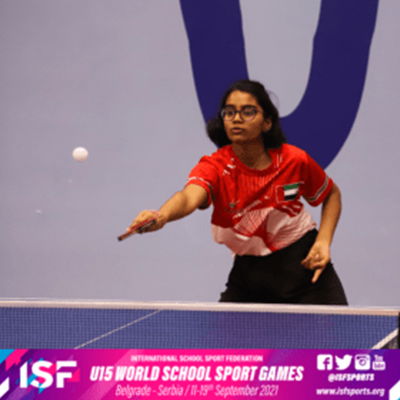 ISF U15 World School Sport Games
Vrushali Patil of 9C, represented UAE for Table Tennis in ISF U15 World School Sports Games held in Belgrade, Serbia from 11th September to 19th September, 2021. She was the captain of UAE Team for this event. She played against Different nationalities and Bagged Silver Medal for doubles and she reached the quarter final for singles. She won the Fair Player award in this tournament.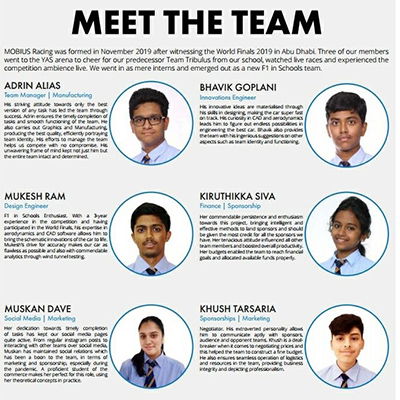 Adrin Alias, Kiruthikka Sivananthan, Bhavik Goplani, Mukesh Ram, Muskan Dave, and Khush Tarsaria
WE DID IT AGAIN, HEADING TO THE WORLD FINALS FOR THE SECOND TIME!!
JSS International School has once again emerged as the winner of F1 UAE NATIONAL FINALS for having WON the Fastest Car for the second time in a row, for having the Best Portfolio, and for the Best Verbal Presentation. F1 in Schools is the world's largest STEM competition where students aged 9- 19 years raise sponsorship and they design, manufacture and race a miniature F1 car on a 20m track. Heartiest congratulations to the team members- Adrin Alias, Kiruthikka Sivananthan, Bhavik Goplani, Mukesh Ram, Muskan Dave and Khush Tarsaria on this commendable victory.
Our students never cease to amaze us with their calibre, innovation and sheer will to succeed. See you all at the F1 World Finals!!!!!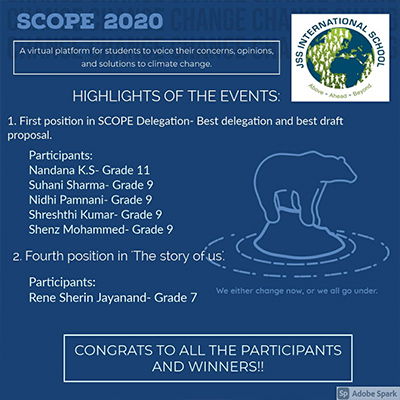 JSSIS Students
SCOPE 2020- An international competition on Climate change organised by GEMS Kindergarten Starters. A participated in several events organised by the symposium and bagged three awards in two events!!!
They shared their opinions, concerns and solutions to address climate change and make the world a better place. And they vowed to continue contributing productively for protecting the environment.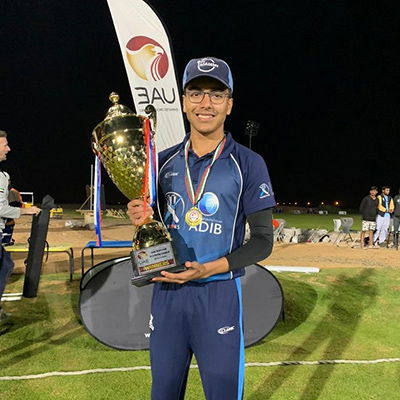 Vedant Deshpande
We are thrilled to share that Vedant Deshpande, our Grade 12 student is now a part of the UAE U19 wider squad preparing for the U19 Asia Cup 2020 to be held in the UAE in November. We extend our good wishes, prayers and support to our rising cricketer, for his bright future.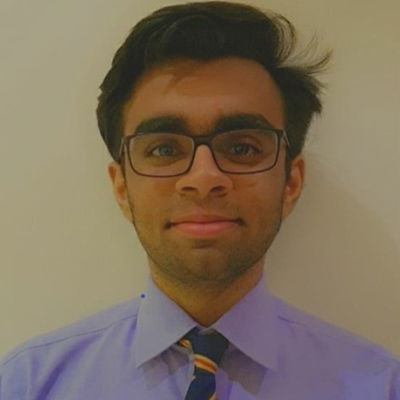 Pulkit Chhabra
Pulkit Chhabra, a student of Grade 12 is the grand prize winner of the Curtin Dubai Essay Writing and Hackathon Competition 2020. His essay has been lauded for standing out among 500+ submissions.
We are proud of you Pulkit, way to go!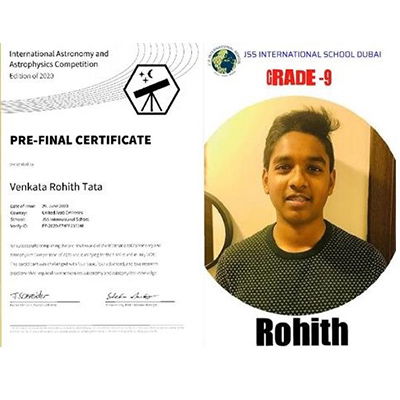 Venkata Rohith Tata
Venkata Rohith Tata a student of Grade 9 scored 29 points in the finals of the International Astronomy and Astrophysics competition and was in the top 7% internationally. He will now compete for the winning position in the finals.
We wish him the best of luck for the finals.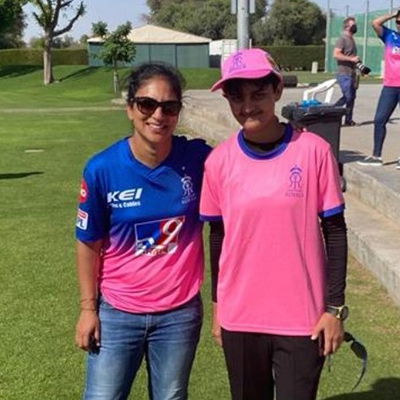 Lavanya Keny
We are immensely proud to share that, Lavanya Keny a Grade 9 student, recently got selected by Rajasthan Royals, one of the franchise team of IPL for a scholarship of 1 year for cricket training in the UAE and INDIA. Lavanya also got selected in the UAE U-19 Women's team training camp under the guidance of Coach Robin Singh & Coach Najeeb. Currently, she is playing for the Emirates Cricket Board with the UAE Women's Team.
Congratulations Lavanya!